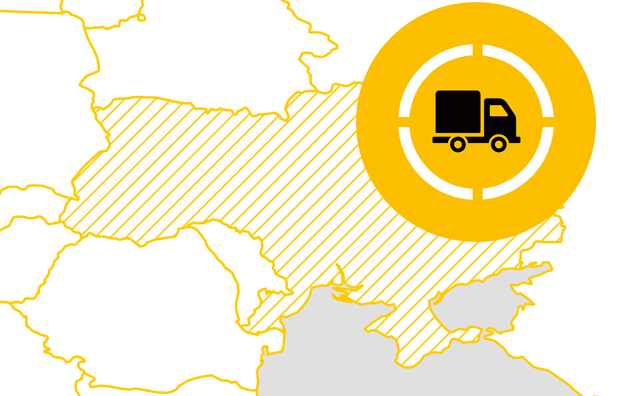 »The export volume to the Ukraine as well as customer requirements for this route have risen sharply in recent months. With our improved cargo service in the Ukraine, we live up to our clients' requirements and distinguish ourselves clearly from the competition.«

Peter Eppenschwandtner, Department Manager, Condor Salzburg, Austria
Ukraine: New Groupage Service!
EU exports to the Ukraine are up 25 percent; Condor offers extensive groupage services and improved transit times.
Exports from the EU (28) to the Ukraine rose by almost 25% in the period from January to April 2017, to almost 6338 mil. Euro. Condor has taken the increased market requirements into account and is now offering new and improved groupage services and transit times – with regular departures, improved infrastructure and customs clearance in the Ukraine, making the Condor service range even more attractive.
In addition to Kiev, there are direct routes to all other major cities. Distribution is possible throughout the entire Ukraine (with the exception of war zones).
In detail, we now offer you:
2x weekly departures
own distribution services for the entire Ukraine (except Lugansk, Donetsk and Crimea)
24 hour service for customs clearance and delivery throughout Ukraine
DDP deliveries
Warranty and spare parts deliveries
Central customs clearance in Kiev for the entire customs territory
EXW Service (Condor contacts the recipient of the goods and takes care of the entire Transaction)
25 years of experience in business dealings with Ukraine
In addition to groupage, Condor also offers the following Services:
Partial and full loads
Documentation
Customs clearance
Sea freight
Airfreight
Airfreight express delivery
Storage
Certification